When it comes to anime, everyone has favorites. Their favorite main character, favorite side character, best boy, best girl, and so on. All that's all good and well, but let's not forget; we also have some of our favorite anime villains as well. Many of them possess traits and personalities that make us either love or hate them; from trying to fulfill a personal goal, to just getting rid of a thorn in their side – which is usually the main character. Some are a one-man band that work alone, but the five selections that we've got all travel in a group. (Strength in numbers, right?) Here are our Top 5 Anime Villain Groups/Factions.
Number 5: The Ginyu Force (Dragon Ball Z)
Yep, we had to do it. Coming in at number 5 on our Top 5 is the one and only Ginyu Force. Next to Zarbon and Didoria, Frieza's trump card of lackeys is the five-member group of mercenaries known as the Ginyu Force. Captain Ginyu (power level-wise) is the strongest member on the team as well as the team leader. Do we consider these guys villains? Eh, maybe – but not seriously. Nevertheless these five men are great as a team, but they won't last five seconds against Mastered Ultra Instinct Goku OR Blue Evolution Vegeta.
Number 4: The Seven Stars (Shikabane Hime: Corpse Princess)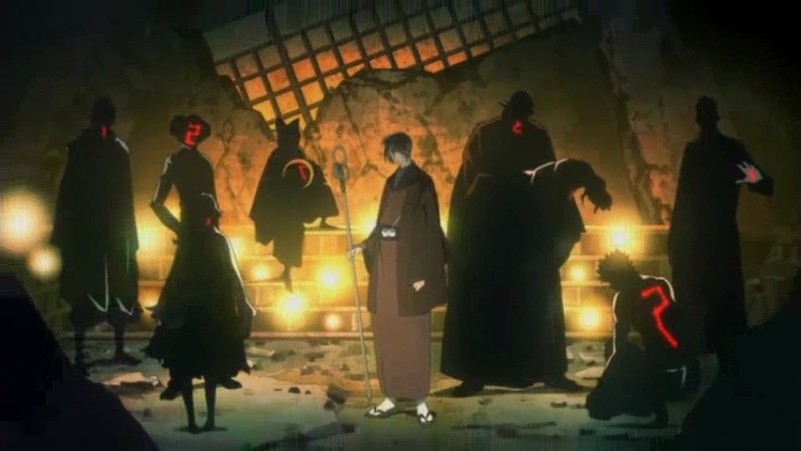 This anime title's kind of underrated (in our opinion), but this group of anime villains from the series Shikabane Hime, is lead by the Traitor Monk. These guys are the reason as to why Makina became what she is; a Shikabane Hime. Although it's been awhile since we've seen the series (roughly 10 years), we can say that these guys are bad news to any and everyone that stands in their way.
Number 3: The League of Villains (My Hero Academia)
You can't have a superhero anime like My Hero Academia without a group – no, a league of supervillains trying to slow them down (or even kill them). Deku and the rest of the Hero Society has had their hands full with the Villain Alliance during the first couple seasons of My Hero, and we're pretty sure they're not done yet! If the fights weren't indication enough as to how powerful these villains can be, then just watching the series!
Number 2: The Ten Commandments (The Seven Deadly Sins)
We all know about the ones from the Bible, but these Ten Commandments are on a whole different level. This group of villains was hand picked by the Demon Lord himself, as each member possesses a commandment that they can impose on anyone (even the Seven Deadly Sins) at any time, as their commandment is immune to the other's commandment. Needless to say, these guys are badass! (But not as badass as our #1!)
Number 1: The Akatsuki (Naruto Shippuden)
And of course these guys were going to be the #1 spot. Every single anime convention you go to, you are going to run into one, or all of the members of the Akatsuki! Itachi, Kisame, Deidara, Sasori, Hidan, Kakuzu, Pain, Tobi, you name it – you've probably seen it! They're not just number one on our list, their main goal is a simple one; get money to fund their organization, extend their services to people who will pay top dollar to use them, and take over the freakin' world! Not to mention they're powerful as hell. If these guys drop a dope rap album, we'll be the first to pick it up! 😉
Honorable Mentions
And who can forget these five guys? Any Pokemon fan who has seen the episode knows who the Squirtle Squad is! They're five Squirtle who have been abandoned by their trainers, so they joined together and formed their own squad. #SquirtleSquadGoals! 😉
There are tons of other villain groups out there that are super powerful, super intelligent, and super badass! I wish we could fit them all on this post, but if you guys have your particular favorites, just list them in the comments below. That will do it for our Top 5 post, and until our next one, stay nerdy my friends! 🙂